Art Nouvea Coloring Book 11"X8.25″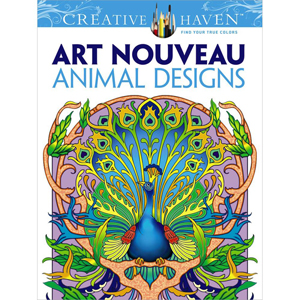 Art Nouvea Coloring Book 11"X8.25″
Art Nouvea Color Book 11"X8.25″
Artist: Marty Noble. Softcover. Published 2013. Made in USA.
PRODUCT DESCRIPTION: BB-CA01 Creative Haven Art Nouveau Animal Design. Inspired by the works of M. P. Verneuil, Alphonse Mucha and other Art Nouveau masters, thirty-one elegant designs celebrate the sensuous Art Nouveau style. The imaginative illustrations feature patterns of graceful swans, peacocks, butterflies, and other creature, as well as intertwined vines, flowers, and other plant life.
Each book includes 31 designs to color printed on one side only of premium quality paper. Pages are perforated for easy removal and display.